"Oye y ten entendido, hijo mío el más pequeño, que nada te asuste o aflija. No se turbe tu corazón... ¿Acaso no estoy aquí yo, que soy tu Madre?"

"Hear me and understand well, my little son, that nothing should frighten or grieve you. Let not your heart be disturbed... Am I not here, who is your Mother?"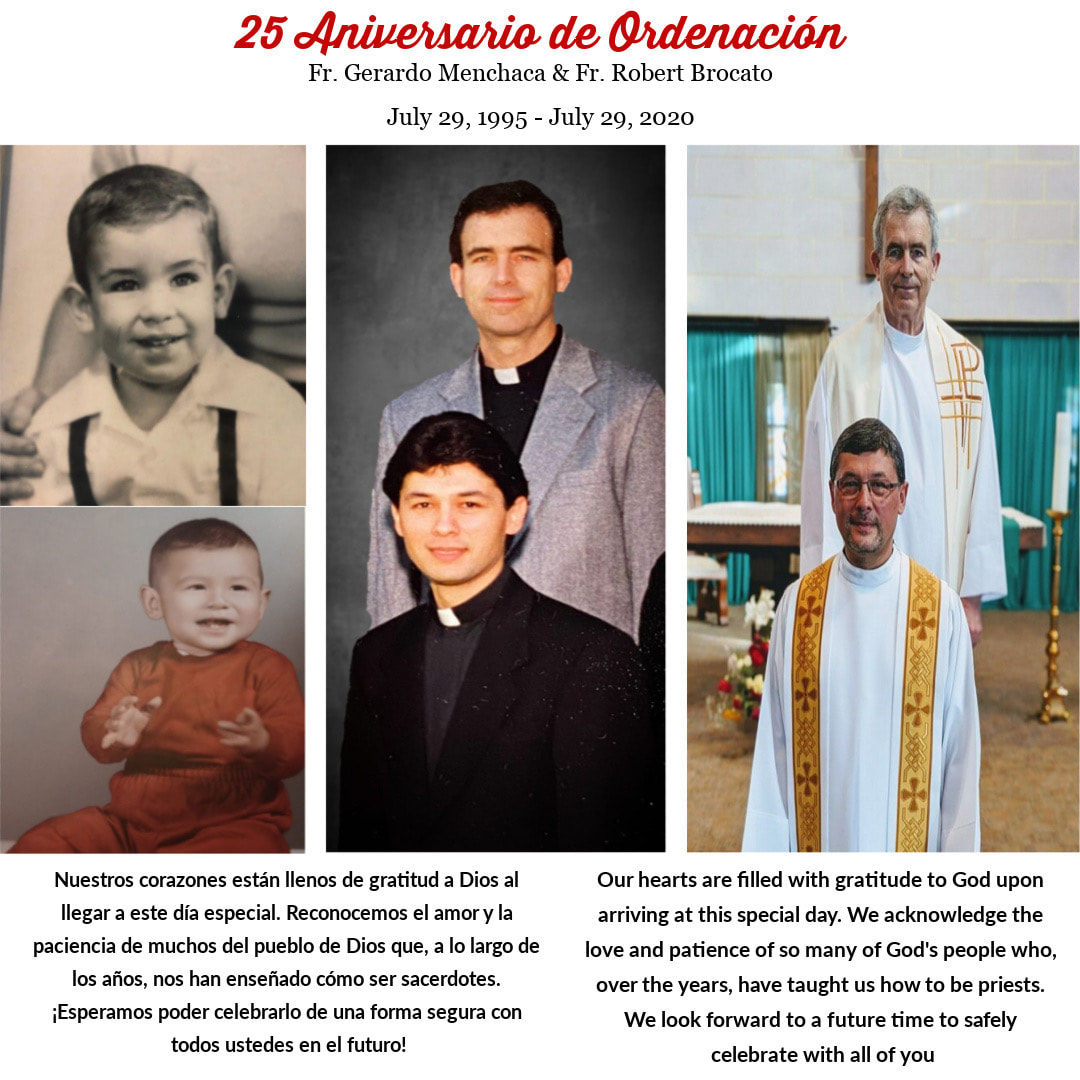 ---
Notice of Social Distancing Protocol
Pursuant to Order of the Health Officer of the County of Santa Clara
updated May 5, 2020
​​Do not leave the house if you are sick or have a cough or fever.
Wear a face covering at all times when visiting the parish facility.
Keep a minimum of six feet away from others.
Sneeze and cough into a cloth or tissue, or if not available, into your elbow.
Do not shake hands or engage in physical contact.
Wash your hands frequently with soap and water (or hand sanitizer) for at least 20 seconds.

No salga de su casa si está enfermo, o tiene tos o fiebre.​
Use un cubreboca en todo momento cuando visite la parroquia.
Mantenga un mínimo de seis pies de distancia de otros.
Cubra la nariz y boca con pañuelos desechables o con la parte interna del codo cuando vaya a toser o estornudar.
No se dé la mano ni entre en contacto físico.
Límpiese las manos con frecuencia con agua y jabón (o desinfectante de manos) por al menos 20 segundos.
---
---
Reflexión DACA
Por Padre Roberto Brocato
Vicario Parroquial de la Parroquia de Nuestra Señora de Guadalupe

Desde la perspectiva Cristiana Católica, la forma de medir el éxito de una sociedad no es mediante el análisis estadístico, sino preguntando cómo se encuentran los que están más abajo y los que se consideran menos en la sociedad. Esta sensibilidad se basa en las escrituras judías, donde los profetas hablaron constantemente en nombre de las viudas, niños e inmigrantes impotentes y sin voz. Esta es la orientación moral fundamental que leemos de los labios de Jesús cuando dice: "Tenía hambre y me diste de comer… un extraño y me acogiste".

Muchos dicen que la moral se basa en la ley y que el estado de derecho está amenazado por DACA. La enseñanza social Católica respondería que, si respetar la ley significa negar a un millón de jóvenes los frutos de sus estudios, sus dones y sus contribuciones pasadas y futuras, si significa privarlos de su dignidad y seguridad básicas como miembros de nuestra comunidad, si significa arrinconarlos a vivir con miedo y desesperanza, entonces la ley es obviamente una mala ley. Y es la mala ley, no DACA, lo que quebranta el estado de derecho.

La ley sólida, en la tradición Católica, tiene sus raíces en la moral. En un respeto por la dignidad humana básica y el tipo de trato que cualquiera esperaría de sí mismo y de sus propias familias. Y hasta que el Congreso revise y restablezca la ley de inmigración actual, para que sea respetada y respetada por nuestra nación, DACA es un remedio simple, práctico y moral.

En nombre de la Iglesia Católica, les digo soñadores algo que no debería necesitar decir, porque es muy obvio. Ustedes son de nosotros y ustedes son amados. No solo por sus familias, sino por esta comunidad. Sus dones, sus planes, sus amistades, sus estudios y sus trabajos son parte de quienes somos todos. Y su precario estado legal nos desafía a todos a apoyarlo. Lo que sucede con DACA nos marcará moralmente a todos, para bien o para mal. Le pido a Dios que sea para bien.

Y a los padres de los soñadores les doy las gracias por sus hijos. Independientemente del miedo o la inseguridad que haya en su tierra natal, sea cual sea la promesa que hizo Estados Unidos, ustedes arriesgaron todo por el bien de sus hijos. Su amor, su valentía y su fe en Dios son una inspiración no solo para sus hijos sino para todos nosotros.


Reflection DACA
By Father Robert Brocato
Parochial Vicar of Our Lady of Guadalupe Parish


From the Catholic Christian perspective, the way of measuring the success of a society is not by statistical analysis, but by asking how the lowest and the least are doing. This sensitivity is grounded in the Jewish scriptures, where the prophets consistently spoke on behalf of the powerless and voiceless widows, children, and immigrants. This is the bedrock moral orientation that we read from the lips of Jesus when he says, "I was hungry and you gave me food… a stranger and you welcomed me."

Many say that morality is grounded in law, and that the rule of law is threatened by DACA. Catholic social teaching would respond that, if upholding the law means denying a million young people the fruits of their studies, their gifts, and their past and future contributions, if it means depriving them of their basic dignity and security as members of our community, if it means relegating them to live in fear and hopelessness, then the law is obviously bad law. And it is bad law, not DACA, that undermines the rule of law.

Sound law, in the Catholic tradition, is rooted in morality. In a respect for basic human dignity and the kind of treatment anyone would expect for themselves and their own families. And until current immigration law is revised and restored by Congress, to be honored and respected by our nation, DACA is a simple, practical, moral remedy.

On behalf of the Catholic Church I say to you Dreamers something that shouldn't need saying, because it is so obvious. You belong to us and you are precious. Not just to your families, but to this community. Your gifts, your plans, your friendships, your studies and your work, are part of who we all are. And your precarious legal status challenges all of us to stand with you. What happens with DACA will morally mark us all, for better or worse. I pray it will be for the better.

And to the parents of the dreamers I extend my thanks for your children. Whatever the fear or insecurity there was in your homeland, whatever the promise that the United States held out, you risked everything for the sake of your children. Your love, your courage, and your faith in God are an inspiration not just for your children but for all of us.


---
Our Mission
​Nuestra Mision
Evangelize, grow spiritually and serve, united as one family of faith, under the protection of
Our Lady of Guadalupe.
Evangelizar, crecer espiritualmente y servir, unidos como una familia de fe, bajo la protección de
​Nuestra Señora de Guadalupe.​
---
Our Vision
Nuestra Visión

We develop deep, personal relationships with Jesus Christ: ​We affirm the power of God to transform our struggling world into a century of hope.
Desarrollamos relaciones profundas y personales con Jesucristo:​ Afirmamos el poder de Dios para transformar nuestro mundo sufriente en un siglo de esperanza.

We make Sunday Liturgy the highlight of people's week: ​We acknowledge our need for on-going conversion and seek to create a beloved community in our society.
​Hacemos de la liturgia dominical el punto culminante de la semana de la gente: Reconocemos nuestra necesidad de conversión continua y buscamos crear una comunidad amada en nuestra sociedad.

We inspire and enable everyone to serve those in need: In this spirit, we claim as essential, reverence and love for all people, all cultures and all creation.
Inspiramos y capacitamos a todos para servir a los necesitados: En este espíritu, afirmamos como esencial, la reverencia y el amor para todas las personas, todas las culturas, y toda la creación.
---
Our History
It was in the 1920s that people began to move into what is now East San Jose. Among these were many Puerto Rican people; they seem to be the first who settled here and specifically in what was in a few years called "Sal Si Puedes", the area around Summer Avenue and Tremond Street near Jackson avenue. There were also neighborhoods on Sunset Avenue and in the nearby Felipe Avenue district. During the 1930s the people worked in the canneries and orchards.
A large number of Mexican people began to come in the 1940s. With 17,000 to 25,000 Mexican people in the valley, the need for a Spanish Mass began to be felt. In the late 1940s there were only two Spanish Masses in the valley; at Holy Family and at Five Wounds. Both of these were national churches for the Italians and Portuguese respectively.
On October 18, 1953 the first Mass was celebrated at Mission Guadalupe. Through the efforts of Fr. Donald McDonnell, an Archdiocesan Priest, the old St. Martin's church was moved across town to a parcel of land donated by the Mayfair Packing Company on Kammerer Avenue. We now know this building as McDonnell Hall. Father McDonnell and other priests officiated at Mission Guadalupe until the Franciscan Friars were installed in 1962. Fr. Anthony Soto, OFM was appointed first pastor of the newly established Our Lady of Guadalupe Parish on June 30, 1962.
The parish became the initiator of many socio-economic, anti-poverty groups and movements. Among them: CSO. The Cursillo Movement, The Grail, Santa Maria Credit Union, CET, St Vincent de Paul, PACT, the first permanent deacon program, and the farm worker movement. Our Lady of Guadalupe's Parish Council was one of its first in the Archdiocese. From Guadalupe's base of operations came Most Holy Trinity Parish. Cesar Chavez and family had moved permanently into the area in 1948. Inspired by Fr. McDonnell, he helped organize the community by canvassing the area and urging the people to register to vote, thus giving themselves a voice in their future.
By 1962 the chapel was now too small to accommodate the growing number of parishioners. The community worked together and purchased land on San Antonio Street to build a bigger church. The "new church" was built with the people's own hands. Many of the parishioners were members of the building trades, donating their time, talent, and treasure to construct a place of worship large enough for all. In 1968 the church building was completed and the first Mass was celebrated. The poor yet organized parish was visited by Robert F Kennedy in March 1968.
Now Our Lady of Guadalupe Parish has two masses Tuesday - Friday, one Mass on Saturday, and six Sunday Masses, Liturgy of the Word on Mondays, and Adoration to the Blessed Sacrament Tuesday - Friday. Nearly 8,000 devotees attend services every week and the number continues to grow. People come from all over the Bay Area to attend Mass.

Nuestra Historia
​Fue en la década de 1920 que la gente comenzó a mudarse a lo que hoy es el este de San José. Entre estas personas había muchos puertorriqueños; al parecer ellos fueron los primeros que se establecieron en estos rumbos, el que por aquellos años se conocía como "Sal Si Puedes", el área alrededor de Summer Avenue y Tremond Street cerca de Jackson Avenue. También existían otros vecindarios en Sunset Avenue y en el distrito cercano de Felipe Avenue. Durante la década de 1930, la gente trabajaba en las fábricas de conserveras y huertos.
Un gran número de mexicanos comenzó a llegar en la década de 1940. Con 17,000 a 25,000 mexicanos en el valle, la necesidad de una misa en español comenzó a sentirse. A fines de la década de 1940, solo había dos misas en español en el valle; en la Iglesia de la Sagrada Familia y en Cinco Llagas. Ambos eran parroquias nacionales para los italianos y portugueses respectivamente.
El 18 de octubre de 1953 se celebró la primera misa en Mission Guadalupe. A través de los esfuerzos del P. Donald McDonnell, un sacerdote de la Arquidiócesis de San francisco, la antigua iglesia de San Martín fue trasladada por toda la ciudad a una parcela de tierra donada por la Compañía Mayfair Packing Company en Kammerer Avenue. Este edificio ahora lo conocemos como McDonnell Hall. El Padre McDonnell y otros sacerdotes dieron su servicio en Mission Guadalupe hasta que se instalaron los Frailes Franciscanos en 1962. Anthony Soto, OFM, fue nombrado primer párroco de la recién establecida parroquia de Nuestra Señora de Guadalupe el 30 de junio de 1962.
La parroquia se convirtió en el iniciador de muchos grupos y movimientos socioeconómicos contra la pobreza. Entre ellos: CSO. El Movimiento de Cursillos, el Grial, la Cooperativa de Crédito de Santa María, CET, San Vicente de Paúl, PACT, el primer programa de diáconos permanentes y el movimiento de trabajadores agrícolas. El Consejo Parroquial de Nuestra Señora de Guadalupe fue uno de los primeros en la Arquidiócesis. De la base de operaciones de Guadalupe vino la parroquia Santísima Trinidad. César Chávez y su familia se mudaron permanentemente al área en 1948, e inspirado por el Padre McDonnell, ayudó a organizar a la comunidad a salir a tocar puertas y de ese modo la gente se registrase para votar, dándose así una voz en su futuro.
Para el año 1962, la capilla era ahora demasiado pequeña para dar cabida al creciente número de feligreses. La comunidad trabajó mucho y compró un terreno en la calle San Antonio para construir una iglesia más grande. La "nueva iglesia" fue construida con las propias manos de la gente. Muchos de los feligreses eran miembros de los oficios de la construcción, donando su tiempo, talento y tesoro para construir un lugar de adoración lo suficientemente grande para todos. En 1968 se terminó el edificio de la iglesia y se celebró la primera misa. La parroquia pobre pero organizada fue visitada por Robert F. Kennedy en marzo de 1968.
Ahora, la Parroquia de Nuestra Señora de Guadalupe tiene dos misas de martes a viernes, una misa el sábado y seis misas dominicales, 2 Liturgia de la Palabra los lunes y Adoración al Santísimo Sacramento del Altar de martes a viernes. Casi 8,000 devotos asisten a los servicios cada semana y el número continúa creciendo. La gente viene de todas partes del Área de la Bahía para asistir a misa.
OUR LADY OF GUADALUPE'S
FOOD PANTRY
Food distributions for zip codes 95116, 95122, 95127, 95132, 95133, need proof of ID and address to qualify.
For families with children, please bring medical or immunization card.
Schedule of food distribution are the following:
Wednesdays from 8 am to 10 am,
Thursday from 1 pm to 3 pm and
Fridays from 10 am to 11 am.


FREE ENGLISH CLASSES
Catholic Charities
McDonnell Hall
Our Lady of Guadalupe Parish
Teaching students at beginner and intermediate levels. Improve your speaking, reading, listening and writing skills through grammar lessons, crafts, music, and much more! Developing these skills will allow you to better integrate into your community
HOURS:
Tuesday, Thursday, and Friday, 9 AM – 2 PM
January 3rd – May 24th, 2019

FREE MEDICAL VISITS
Gardner Mobil Unit
Wednesdays, 4:15 – 7pm
Our Lady of Guadalupe Parish
Free flu shot, medical visits, sick visits, skin conditions, chronic disease management, lab work, prescriptions. All services are confidential.
Please check in within the mobile unit at the beginning of clinic to let them know you want to be seen.
First come/ first served.
Services for the homeless, in shelters, living in vehicle/garage, etc.




PROGRAMA DE COMIDA
DE NUESTRA SEÑORA DE GUADALUPE
Se distribuye alimentos para los códigos postales: 95116, 95122, 95127, 95132, 95133.
Necesitan comprobante de identificación y dirección para calificar.
Para familias con niños, traer la tarjeta médica o de vacunas por niño.
Los horarios de distribución de alimentos son los:
miércoles de 8 a 10 a.m.,
jueves de 1 pm a 3 pm
viernes de 10 a 11 am.

​CLASES DE INGLÉS GRATUITAS
Caridades Católicas
Salon McDonnell
Parroquia de Nuestra Señora de Guadalupe
Enseñando a estudiantes de nivel principiante e intermedio. ¡Mejore sus habilidades para hablar, leer, escuchar y escribir a través de lecciones de gramática, manualidades, música y mucho más! El desarrollo de estas habilidades le permitirá integrarse mejor en su comunidad.
HORARIO:
Martes, Jueves y Viernes, 9 AM – 2 PM
Del 3 de enero al 24 de mayo de 2019
No habrá clases el 1/25, 2/15, 4/1 a 4/5, 4/15 a 4/20

SERVICIOS MÉDICOS GRATUITOS
Clínica de Unidad Móvil de Gardner
Miércoles, 4:15 – 7 pm
Parroquia de Nuestra Señora de Guadalupe
Vacunas contra gripe gratis, visitas médicas, condiciones de la piel, control de enfermedades crónicas, servicios de laboratorio, recetas. Personas con o sin documentos son bienvenidos. Servicios en español y confidencial.
Por favor regístrese dentro de la unidad móvil al comienzo de la clínica para dejarles saber que quiere ser atendido. Se le atenderá por orden de llegada.
Servicios para personas sin hogar, en albergues, en condiciones de vivienda no permanentes, viviendo en cocheras o compartiendo cuarto.


Migrantes Vulnerables, una Prioridad para la Iglesia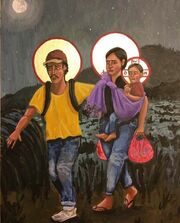 El jesuita Michael Czerny, responsable de la Sección Migrantes y Refugiados del Vaticano, señaló que para la Iglesia Católica son prioridad las personas más vulnerables, como los que integran la Caravana Migrante de centroamericanos que en estos momentos de desplaza por México.
En representación del Papa Francisco, el padre Czerny inauguró el VIII Foro Social Mundial de las Migraciones que se celebró en la Ciudad de México. "Como muchos otros flujos humanos en el mundo, es una manifestación de la desesperación, de la crisis de un modelo económico y político que obliga a miles de seres humanos a escapar de su tierra, asumiendo la vulnerabilidad que implica ser migrante forzado o refugiado. Para la Iglesia, los migrantes vulnerables son una prioridad" "Que este Foro sea un motivo de inspiración para la creatividad, la compasión, la visión de futuro y la valentía en todos los esfuerzos e iniciativas en favor de las y los migrantes vulnerables".
Reiteró que de acuerdo con los cuatro verbos de Papa Francisco, acoger, proteger, promover e integrar, a todos los migrantes se les debe garantizar un trato digno, evitando cualquier uso ideológico-político de las necesidades de los pobres que emigran o de los migrantes que llegan. Para finalizar, el padre Czerny hizo énfasis en que la Sección Migrantes y Refugiados del Vaticano, "tiene el compromiso de trabajar con ustedes, para que la Iglesia sea una casa y una madre para todos, viviendo su catolicidad como el cumplimiento de la voluntad de Cristo para sus discípulos: "que todos sean uno" (Jn 17:21)". Fuente: Jesuitas México
---
| | |
| --- | --- |
| Guadalupe, Virgen de los Migrantes | Guadalupe, Virgin of Migrants |
| | |
| --- | --- |
| Virgen de Guadalupe, protectora de todos los migrantes, camina con ellos para que no sufran discriminación; cuida a los niños y guarda la unidad de las familias. A nosotros danos tu espíritu de clemencia, compasión, y de ayuda a lo más necesitados, que no seamos indiferentes al dolor y sufrimiento de tus hijos migrantes. Te lo pedimos por Jesucristo, nuestro Señor. Amen. | Virgin of Guadalupe, protector of all migrants, walk with them so they do not suffer discrimination; take care of the children and keep the families together. Give us your spirit of mercy, compassion, and help to those most in need, that we do not turn a blind eye to the pain and suffering of your migrant children. We ask this through Jesus Christ, our Lord. Amen. |