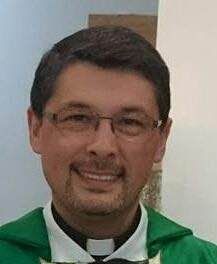 ​Padre Gerardo (Fr. G), Párroco

Welcome to Our Lady of Guadalupe Parish
Bienvenidos a la Parroquia de Nuestra Señora de Guadalupe


---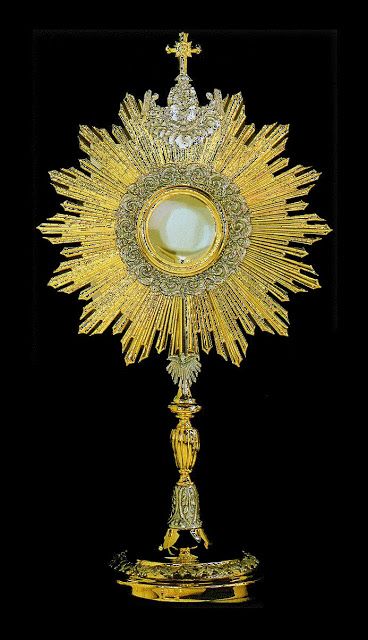 You are cordially invited to:
What: A personal hour with Our Lord in the Blessed Sacrament
When: An hour of your choice between 9:00 AM – 5:00 PM
Monday – Friday
Where: Our Lady of Guadalupe Parish
Hosted by: Our Lord and the devoted adorers of Nocturnal Adoration and the Prayer Group
​
Esta cordialmente invitado(a) a:
Que: Una hora personal con Nuestro Señor en el Santo Sacramento
Cuando: Una hora de su preferencia entre las 9:00 AM – 5:00 PM
Lunes – Viernes
Donde: Parroquia Nuestra Señora de Guadalupe
Organizado por: Nuestro Señor y los adoradores devotos de Adoración Nocturna y el Grupo de Oración Cristo Vive



---
Upcoming Events

Sunday, October 23, 2016
Installation of New Pastor Celebration
With great joy, the people of this faith community will celebrate Reverend Gerardo Menchaca "Fr. G" as our ninth pastor of Our Lady of Guadalupe Parish. Come join us for a potluck from 2:00 PM – 5:00 PM. For those who can, please bring your favorite dish to share with others.

Saturday, October 29, 2016
Day of the Death Procession
Calvary Catholic Cemetery invites you to their annual festival from 11:00 AM – 3:00 PM. The celebration begins with a procession, lead by the Children Choir departing from Our Lady of Guadalupe Parish at 10:00 AM

Sunday, October 30, 2016
Free Flu Shots
Medical students from Stanford and UCSF will be providing unlimited flu shots from 9:00 AM – 2:30 PM at McDonnell Hall. Pass the word!


Próximos Eventos

Martes, 18 de octubre, 2016
Misa de Unción de Enfermos en Español
La Misa será en español en el templo. Después de la Misa se ofrecerá un almuerzo gratuito a los enfermos y sus acompañantes.

Domingo, 23 de octubre, 2016
Celebración de la Instalación de Nuevo Párroco
Con gran gozo, la gente de esta comunidad de fe celebraremos al Reverendo Gerardo Menchaca "Padre Gerardo" como nuestro noveno párroco de Nuestra Señora de Guadalupe. Venga y acompáñenos durante una convivencia de 2:00 PM – 5:00 PM. Los que gusten, favor traer su platillo favorito para compartir.

Sábado, 29 de octubre, 2016
Procesión del Día de los Muertos
El Cementerio Católico del Calvario los invita a su festival anual de 11:00 AM – 3:00 PM. La celebración empezará con una procesión, encabezada por el Coro de Niños que partirá de la Parroquia Nuestra Señora de Guadalupe a las 10:00 AM.

Domingo, 30 de octubre, 2016
Vacunas contra la Influenza Gratis
Los estudiantes de medicina de Stanford y UCSF estarán poniendo vacunas de la gripe entre las 9:00 AM – 2:30 PM en el Salón McDonnell. ¡Pasen la voz!

Thanks to all who attended last week to 3 major events!

On Sunday October 2nd we had the blessing of McDonnell Hall. Thank you to all parishioners and volunteers for your generosity to help renovate our main building for catechism. Thank you to everyone for your donations and prayers.

The following day, October 3rd, JuFra (Franciscans Youth) our young adults group presented a theatrical play "The Transit of Assisi" as vespers of the celebration of St. Francis of Assisi.

On October 4th, parishioners and their pets gathered at the parish kiosk for the blessing of the animals. This year we had several dogs and even a turtle! May St. Francis continue to bless our beloved four-legged friends!

The week concluded with a retreat for Lectors and Eucharist ministers from the English and Spanish Liturgy. This Day of Recollection was focused on the Theology of the Word and the Holy Eucharist. The retreat ended with the Holy Hour. Together, we reflected on our love for Christ as the center of our lives, and we also thanked God for the privilege of serving.



Gracias a todos los que asistieron la semana pasada a 3 grandes eventos!

El pasado domingo 2 de octubre tuvimos la bendición del Salón McDonnell, sitio principal de catequesis y evangelización. Es un orgullo contar con la generosidad de tantas personas que fueron instrumentos de Dios. Gracias a sus donaciones, trabajo desinteresado, y oraciones, el salón parroquial se ha convertido en un espacio limpio y digno para nuestra comunidad, especialmente para nuestros niños.

El día siguiente, 3 de octubre los jóvenes de JuFra (Juventud Franciscana) presentaron la obra "Transito de Asís", como vísperas de la celebración del San Francisco de Asís.

​El 4 de octubre el kiosco parroquial fue visitado por un gran número de personas acompañados por sus mascotas para la bendición de animales. ¡Este año vinieron muchos caninos y una tortuga! Que San Francisco interceda por nuestros amados amiguitos.

La semana concluyó con un retiro para ministros de Eucaristía y Lectores del grupo de Liturgia de Español e Ingles. Este Día de Recolección se enfocó en la Teología de la Palabra y la Santa Eucaristía. El retiro concluyó con la Hora Santa. Juntos reflexionamos acerca de nuestro amor por Cristo como centro de nuestras vidas, y también dimos gracias a Dios por el privilegio de servir.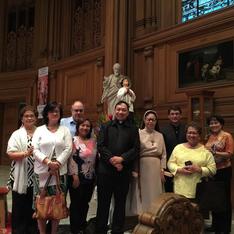 Fil-Am celebrating San Lorenzo Ruiz at St. Patrick's Seminary
From left to right: Beth, Edna, Bob, Marilyn, Fr. Chady, Sister Mary Peters, Fr. G, Tina, and Anna
---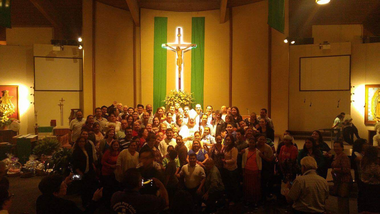 Discípulos de Cristo Guadalupanos
Misa de Comisión y Envío 2016

El jueves 15 de septiembre de 2016 varios lideres de ministerios y grupos de nuestra parroquia acudieron a la Misa de Comisión y Envío, celebrada por nuestro Obispo Patricio McGrath en la Parroquia Santísima Trinidad. ¡Gracias a todos por decir sí a servir al Señor, y ahora los animamos a que sigan adelante viviendo el Evangelio con mucha alegría y gozo!
​
On Thursday September 15, 2016 leaders of several ministries and groups of our parish attended the Commissioning and Sending Forth Mass, celebrated by our Bishop Patrick McGrath at Most Holy Trinity Parish. Thank you all for saying yes to serve the Lord, and now we encourage you to keep going living the Gospel with great joy and happiness!
---
"Cruz de Paz"

El 14 de septiembre de 2016, feligreses de Nuestra Señora de Guadalupe se hicieron presentes minutos antes de la misa matutina para celebrar la Exaltación de la Cruz.

Mientras los corazones de los fieles se impactaban al presenciar el crucifijo permanente, al alcance de sus manos, Padre Gerardo los invito a orar por la paz. "Este crucifijo, nos ayuda a nosotros a reflexionar del gran amor que Dios nos tiene, que significa que Cristo dio la vida por cada uno de nosotros, que Dios envía a su propio hijo para mostrarnos su grande amor. Al mismo tiempo, Cristo, que fue un hombre inocente, muere inocentemente en una muerte violenta por nuestros pecados... Hoy le pedimos a Dios que termine la violencia en nuestras familias, en nuestra comunidad, y en el mundo entero", comento el párroco.

Después de la bendición y siguiendo el ejemplo del sacerdote, los parroquianos se acercaron al crucifijo son solemnidad y reverencia. En seguida las personas procesaron hacia el templo para celebrar la Santa Misa, donde se les recordó que la Cruz significa el sacrificio que cada uno hace por amor. Al final de la misa todos fueron invitados a tomar 5 minutos enfrente de la Cruz y reflexionar en el amor que Dios tiene para cada uno de sus hijos.

El crucifijo se encuentra localizado en la pared exterior del templo, en frente del jardín oeste, esperando a los visitantes las 24 horas del día, los 7 días de la semana.
​
"Porque tanto amó Dios al mundo, que le entregó a su Hijo único, para que todo el que crea en él no perezca, sino que tenga vida eterna. Porque Dios no envió a su Hijo para condenar al mundo, sino para que el mundo se salvara por él".
​Jn 3, 16-17

"Cross of Peace"

On September 14, 2016, parishioners of Our Lady of Guadalupe showed up minutes before the morning Mass to celebrate the Exaltation of the Cross.

While the hearts of the faithful were impacted by witnessing the permanent crucifix within reach of their hands, Father Gerardo invited them to pray for peace. "This crucifix helps us reflect on the great love God has for us, meaning that Christ gave his life for each one of us, that God sent his own son to show his great love. At the same time, Christ, who was an innocent man, died for our sins innocently in a violent death... Today we ask God to end the violence in our families, in our community and around the world", said the pastor.

After the blessing and following the example of the priest, parishioners approached the crucifix with solemnity and reverence. Then, the people processed to the temple to celebrate Mass, where they were reminded that the Cross means the sacrifice everyone does for love. At the end of Mass everybody were invited to take 5 minutes in front of the Cross and reflect on the love God has for each one of his children.

The crucifix is located on the outer wall of the temple, in front of the west garden, waiting for visitors 24 hours a day, 7 days a week.

"For God so loved the world that he gave his only Son, so that everyone who believes in him might not perish but might have eternal life. For God did not send his Son into the world to condemn the world, but that the world might be saved through him."
Jn 3: 16-17




Guadalupan Triduum is coming soon…
December 10, 11, and 12, 2016

El Triduo Guadalupano se aproxima…
10, 11, y 12 de diciembre, 2016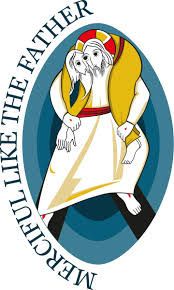 What is the Year of Mercy?
The Year of Mercy is an invitation—an invitation to love, kindness, and unbounded generosity. Pope Francis is offering you the opportunity to encounter the incredible mercy of God. Encountering mercy means encountering God. It can transform your life, your relationships, your work, and your ability to embrace and experience all of life.

Corporal Works of Mercy: Feed the hungry, Clothe the naked, Visit the sick, Bury the death, Give drink to the thirsty, Harbor the harborless, and Ransom the Captives.
Spiritual Works of Mercy: Instruct the ignorant, Admonish the sinner, Forgive offenses willingly, Pray for the living and the dead, Counsel the doubtful, Bear wrongs patiently, and Comfort the afflicted.

¿Qué es el Año de la Misericordia?
El Año de la Misericordia es una invitación – una invitación para el amor, amabilidad, y abundante generosidad. El Papa Francisco está ofreciendo la oportunidad de encontrar la increíble misericordia de Dios. El encuentro con la misericordia significa el encuentro con Dios. Puede transformar su vida, sus relaciones, su trabajo y su capacidad para abrazar y experimentar todo de la vida.

Obras Corporales de Misericordia: Alimentar al hambriento, vestir al desnudo, Visitar a los enfermos, Enterrar a los difuntos, Dar de beber al sediento, Albergar a los desamparados, y Rescatar a los cautivos.
Obras Espirituales de Misericordia: Instruir a los ignorantes, Amonestar al pecador, Perdonar las ofensas voluntariamente, Rezar por los vivos y los muertos, Aconsejar al dudoso, Soportar los males pacientemente, y Confortar a los afligidos.
---
If you are interested in scheduling a group visitation to the Holy Door, please contact Idania Peralta at (408) 258-7057 ext. 226 or iperalta@dsj.org. We are looking forward to welcome you!
Si usted está interesado en programar una visita de grupo para la Puerta Santa, por favor contacte a Idania Peralta at (408) 258-7057 ext. 226 o iperalta@dsj.org. ¡Estamos deseosos de darle la bienvenida!
​
TREE OF LIFE METAL WALL PLAQUE
Leaves are also available for the "Tree of Life" metal wall plaque inside the church. With a donation of $100, you can have your loved ones names inscribed for a lasting memorial. For more information, please contact or visit the parish office.

PARED DEL ARBOL DE LA VIDA
Hojas estan disponibles en el "Arbol de la Vida: Con su donacion de $100 usted puede inscriber el nombre de su ser querido como un memorial. Para mas informacion del Arbol de la Vida: Contacte a la oficina.
---

FREE MEDICAL VISITS FROM GARDNER

Free medical visits at Our Lady of Guadalupe Church every other Wednesday . Gardner mobile unit will be stationed in front of the office giving free medical visits, sick visits, skin conditions, chronic disease management, lab work, and prescriptions for both documented and undocumented persons. This is bilingual and confidential. Please check in with the mobile unit at the beginning of clinic to let them know you want to be seen. This is on a first come, first served basis.





VISITAS MÉDICAS GRATUITAS DE GARDNER

Visitas médicas gratuitas en la Parroquia de Nuestra Señora de Guadalupe cada dos Miércoles. La clínica móvil de Gardner estará estacionada en frente de la oficina dando consultas médicas gratuitas, para controlar enfermedades crónicas como diabetes, colesterol, alta presión, para hacer trabajo de laboratorio, y para dar recetas a todos, documentados o no. Las consultas son bilingües y confidenciales. Por favor, venga y regístrese enfrente de la unidad móvil y hágales saber que usted quiere ser visto. Se van viendo a las personas conforme van llegando
---
| | |
| --- | --- |
| If you need to use our facilities please print the facility request available below once completed please turn it to the parish office for approval. Thank you! | Si usted necesita utilizar nuestras instalaciones por favor imprima la solicitud de instalación disponibles adjunta, una vez completada favor entregarla a la oficina parroquial para su aprobación. Gracias! |
---