​Welcome to Our Lady of Guadalupe Parish - Bienvenidos a la Parroquia de Nuestra Señora de Guadalupe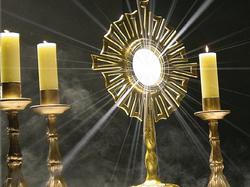 Blessed Sacrament Adoration: Monday – Friday from 9:00 AM – 5:00 PM
​
Adoración al Santísimo:Lunes – Viernes de 9:00 AM – 5:00 PM

Chầu Mình Thánh Chúa: từ Thứ Hai đến Thứ Sáu, từ 9 giờ sáng đến 5 giờ chiều
---
FEAST OF OUR LADY OF GUADALUPE SCHEDULE
HORARIO DE LA FESTIVIDAD DE NUESTRA SEÑORA DE GUADALUPE
Novena a Nuestra Señora de Guadalupe, adaptada para toda la familia: Viernes, 2 de diciembre – Sábado, 10 de diciembre a las 4PM
ANUAL DIOCESAN MASS
Friday, 12/9/16 (Feast of St. Juan Diego) 6 pm – 9pm
Parish Pilgrimages, hosted by the Diocese of San Jose
6pm – Processions become to arrive
7pm – Mass, celebrated by Bishop Patrick McGrath
8pm – Fellowship
Our Parish procession starts from Five Wounds at 5:30 PM.

GUADALUPAN TRIDUUM
Saturday, December 10th noon – 10 pm
DAY 1 – COMMUNITY BUILDING EVENT
Outside: Booths, DJ, and family activities
McDonnell Hall: Exposition of the Blessed Sacrament
Church: Mass in English at 5:30 pm (music will stop)

Sunday, December 11th 7am – 11:59 pm
DAY 2 – RELIGIOUS EVENT "VIGIL"
Outside: Booths, DJ, and live music performances
McDonnell Hall: Exposition of the Blessed Sacrament
Church/ Mass schedule:
7:45 am: Mass (Spa)
9:30 am: Mass (Eng)
11:00 am: Mass (Spa)
1:00 pm: Mass (Eng)
5:00 pm: Mass (Spa)
6:30 pm: Mass (Eng)
8:00 pm: Theatrical play by CVJ
9:00 pm: Serenades begin

Monday, December 12th 12am – 9pm
DAY 3 – "FEAST OF OUR LADY OF GUADALUPE"
McDonnell Hall: Exposition of the Blessed Sacrament
Church/ Mass schedule:
12 am: Midnight Mass (Spa)
5:00 am: Mañanitas Serenade (Spa)
6:00 am: Misas de Gallo/ Mass (Spa)
8:00 am: Guadalupanas Mass (Spa))
12:00 pm: Mass (Bilingual)
5:30 pm: Mass (Eng)
7:00 pm: Mass (Spa)
​

MISA ANUAL DIOCESANA
Viernes, 12/9/16 (Fiesta de San Juan Diego) 6 PM – 9 PM
Peregrinajes Parroquiales, planeado por la Diócesis de San José
6 PM – Procesiones empiezan a llegar
7 PM – Misa, oficiada por el Sr. Obispo Patrick McGrath
8 PM – Compartimiento
Procesión de nuestra parroquia saldrá a las 5 PM de la Iglesia 5 Llagas

TRIDUO GUADALUPANO
Sábado, 10 de diciembre mediodía – 10 PM
DÍA 1 – EVENTO CONSTRUYENDO COMUNIDAD
Afuera: Puestos, DJ, y actividades para familia
Salón Parroquial: Exposición del Santísimo Sacramento
Iglesia: Misa en inglés a las 5:30 PM

Domingo, 11 de diciembre 7 AM – 11:59 PM
DÍA 2 – EVENTO RELIGIOSO "VIGILIA"
Afuera: Puestos, DJ, Y música en vivo
Salón Parroquial: Exposición del Santísimo Sacramento
Iglesia/ Misas y Serenatas
7:45 AM: Misa (español)
9:30 AM: Misa (ingles)
11:00 AM: Misa (español)
1:00 PM: Misa (español)
5:00 PM: Misa (español)
6:30 PM: Misa (ingles)
8:00 PM: Obra teatral por CVJ
9:00 PM: Serenatas

Lunes, 12 de diciembre 12 AM – 9 PM
DÍA 3 – "FESTIVIDAD DE NUESTRA SEÑORA DE GUADALUPE"
Salón Parroquial: Exposición del Santísimo Sacramento
Iglesia/ Horario de Misas
12:00 AM: Misa de Medianoche (español)
5:00 AM: Mañanitas (español)
6:00 AM: Misa de Gallo (español)
8:00 AM: Misa de Guadalupanas (español)
12:00 PM: Misa Bilingüe (español/ ingles)
5:30 PM: Misa (ingles)
7:00 PM: Misa de Clausura (español)
Clases de Biblia con Padre Gerardo todos los jueves de 7:00 PM – 8:00 PM en el Salón Parroquial.
VOCATIONS
How do you know that the priesthood or consecrated life is truly God's will for you? Discernment is prayerfully seeking God's will in your life. It takes time, patience and a willing heart, humility and trust that God does indeed wants what is best for you.
Do not ask yourself, "What do I want to do with my life?" This is the wrong question! Rather, you should be thinking and asking: "Jesus what do you want me to be? How do you want me to love You?" And listen for the answer! Listen with your heart, not just your head. If you are considering the priesthood or religious life, or you know someone who may be interested in pursuing a vocation, please contact Fr. Gerardo.

EVANGELIZATION
Sunday, Nov. 27: Guadalupe, Model for Catholic Evangelization
Sunday, Dec. 4: Teachings of Pope Francis
Sunday, Dec. 18: Birth of Jesus
Preparation for Advent (Bible Studies) in English by Dr. Robert Lassalle-Klein, Ph.D., M.S.W., S.T.L. (Professor of Religious Studies).
​Sessions will be held at the Parish Hall after the 9:30 AM Mass

ADVENT RECONCILIATION
Tuesday, December 6th at 7 PM
​
ADVENT RETREAT
Saturday, December 17, 2016 from 8:00 AM - 12 Noon. Everyone is welcome to attend.

---

VOCACIONES
¿Cómo sabes que el sacerdocio o la vida consagrada es verdaderamente la voluntad de Dios para ti? El discernimiento es buscar la voluntad de Dios en tu vida por medio de la oración. Se necesita tiempo, paciencia, un corazón dispuesto, humildad, y la confianza de que Dios realmente quiere lo mejor para ti. No te preguntes, "¿Qué quiero hacer con mi vida?" ¡Esta es la pregunta incorrecta! Más bien, debes estar pensando y preguntando: "Jesús, ¿qué quieres que yo sea? ¿Cómo quieres que te ame? "¡Y escucha la respuesta! Escucha con tu corazón, no sólo con tu cabeza. ​Si estás considerando el sacerdocio o la vida religiosa, o conoces a alguien que esté interesado en perseguir una vocación, por favor póngase en contacto con el Padre Gerardo.

EVANGELIZACION
Domingo, Nov. 27: Guadalupe como modelo de la Evangelización Católica,
Domingo, Dic. 4: Enseñanzas del Papa Francisco
Domingo, Dic. 18: Nacimiento de Jesús.
​Preparación para Adviento (Estudios de Biblia) en español por Dr. Robert Lassalle-Klein, Ph.D., M.S.W., S.T.L. (Profesor de Estudios Religiosos).
Las Clases serán en el Salón Parroquial después de la Misa de 11AM.

CONFESIONES DE ADVIENTO
​Martes, 6 de diciembre a las 7 PM

RETIRO DE ADVIENTO
Sábado 17 de diciembre, 2016 de 8:00 AM – 12 del mediodía. Todos son bienvenidos.
TREE OF LIFE METAL WALL PLAQUE
Leaves are also available for the "Tree of Life" metal wall plaque inside the church. With a donation of $100, you can have your loved ones names inscribed for a lasting memorial. For more information, please contact or visit the parish office.

PARED DEL ARBOL DE LA VIDA
Hojas estan disponibles en el "Arbol de la Vida: Con su donacion de $100 usted puede inscriber el nombre de su ser querido como un memorial. Para mas informacion del Arbol de la Vida: Contacte a la oficina.
---

FREE MEDICAL VISITS FROM GARDNER

Free medical visits at Our Lady of Guadalupe Church every other Wednesday . Gardner mobile unit will be stationed in front of the office giving free medical visits, sick visits, skin conditions, chronic disease management, lab work, and prescriptions for both documented and undocumented persons. This is bilingual and confidential. Please check in with the mobile unit at the beginning of clinic to let them know you want to be seen. This is on a first come, first served basis.





VISITAS MÉDICAS GRATUITAS DE GARDNER

Visitas médicas gratuitas en la Parroquia de Nuestra Señora de Guadalupe cada dos Miércoles. La clínica móvil de Gardner estará estacionada en frente de la oficina dando consultas médicas gratuitas, para controlar enfermedades crónicas como diabetes, colesterol, alta presión, para hacer trabajo de laboratorio, y para dar recetas a todos, documentados o no. Las consultas son bilingües y confidenciales. Por favor, venga y regístrese enfrente de la unidad móvil y hágales saber que usted quiere ser visto. Se van viendo a las personas conforme van llegando
---
| | |
| --- | --- |
| If you need to use our facilities please print the facility request available below once completed please turn it to the parish office for approval. Thank you! | Si usted necesita utilizar nuestras instalaciones por favor imprima la solicitud de instalación disponibles adjunta, una vez completada favor entregarla a la oficina parroquial para su aprobación. Gracias! |
---