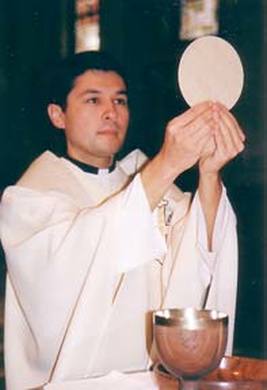 How do you know that the priesthood or consecrated life is truly God's will for you?
Discernment is prayerfully seeking God's will in your life. It takes time, patience and a willing heart, humility and trust that God does indeed wants what is best for you.
Do not ask yourself, "What do I want to do with my life?" This is the wrong question! Rather, you should be thinking and asking: "Jesus what do you want me to be? How do you want me to love You?" And listen for the answer! Listen with your heart, not just your head.
​If you are considering the priesthood or religious life, or you know someone who may be interested in pursuing a vocation, please contact Fr. Gerardo.


¿Cómo sabes que el sacerdocio o la vida consagrada es verdaderamente la voluntad de Dios para ti?
El discernimiento es buscar la voluntad de Dios en tu vida por medio de la oración. Se necesita tiempo, paciencia, un corazón dispuesto, humildad, y la confianza de que Dios realmente quiere lo mejor para ti.
No te preguntes, "¿Qué quiero hacer con mi vida?" ¡Esta es la pregunta incorrecta! Más bien, debes estar pensando y preguntando: "Jesús, ¿qué quieres que yo sea? ¿Cómo quieres que te ame? "¡Y escucha la respuesta! Escucha con tu corazón, no sólo con tu cabeza. ​
​Si estás considerando el sacerdocio o la vida religiosa, o conoces a alguien que esté interesado en perseguir una vocación, por favor póngase en contacto con el Padre Gerardo.