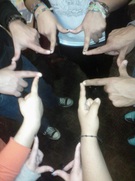 RELIGIOUS EDUCATION / EDUCACIÓN RELIGIOSA
Tel.(408) 258-7057 Ext. 238

For inquiries regarding programs, contact Connie Torres or visit the parish office during office hours.

Catechism / Confirmations / RCIA
Catecismo / Confirmación / RICA


---
Registrations are now open!
Registrations will start Tuesday July 5th- 10am to 12:30pm and 2pm to 5pm
Registration days: Tuesday - Friday 10am - 12:30pm and 2pm to 5pm
To download the Religious Ed application 2016 click
here
. Please fill out form and bring to the Office Dinning room with the Baptismal certificate.
Ya estamos registrando!
Las registraciones comenzaran el dia Martes 5 de Julio de 10am a 12:30pm y de 2pm a 5pm
Dias de registracion: Martes a Viernes de 10am a 12:30pm y de 2pm a 5pm
Para llenar la aplicacion de Educacion Religiosa 2016 aga click
aqui
. Por favor llene la forma y entregela en el comedor de la oficina junto con el certificado de Bautismo.


​WE NEED CATECHISTS! - ¡NECESITAMOS CATEQUISTAS!

Have you felt the calling to share your faith with children, teens, or
adults? The Catechetical program needs you!
We are looking for catechists, teachers' aides, volunteers and helpers
for the catechetical office.
The catechetical program is an essential part of the Christian formation
in our community:
"The definitive aim of catechists is to put people not only in touch ,
but also in communion and intimacy, with Jesus Christ."(80GDC)
We have formation of classes in August. If you are interested
please visit Connie at the catechetical office. For more info please call
(408)926-9287 and leave a with call back information.

------------------------------------------------------------------

¿Has sentido el llamado de compartir tú fe y de evangelizer a niños,
adolescents, o adultos? El programa de catequesis te necesita. Necesitamos
catequistas, asistentes de catequistas, voluntarios, y ayudantes
para la oficina de catequesis.
El programa de catequesis es una parte esecial en la formacion
Cristiana de nuestra comunidad que:
"El fin definitive de la catequesis es poner a uno no solo en contacto,
sino en communion y en intimidad con Jesuscristo (80 DGC)
Las sesiones de formacion inician en Agosto. Personas interesadas
pueden pasar con Connie, la directora, a la Oficina de Catequesis.
Para mayor informacion pueden dejar un mensaje con sus datos de
contacto al (408)926-9287.